This morning we were gifted some light mountain snow in Northern UT and many took the opportunity to see the ski situation:
Opening Day was so much fun, thanks to everyone who came up and partied with us! Here's a video recap from @flanellifestyles #brightonresort #utah pic.twitter.com/Hyv27vNQfW

— BrightonResort (@BrightonResort) November 17, 2018
As long breaks in weather do to pessimists, I'd been getting maybe a little overly anxious that nothing was going to happen for a while…but we are looking at good odds for a thing late next week. I'll use this forecast to break down the current state of the atmosphere, thinking about how this will set up next week's potential snow.
---
the Splitting Jet
Below I've plugged a water vapor loop from NOAA's satellite dataset showing the state of the moisture in the atmosphere over 7 hours between 1PM and 8PM Saturday. Red lines should clarify the part of the world we're looking at.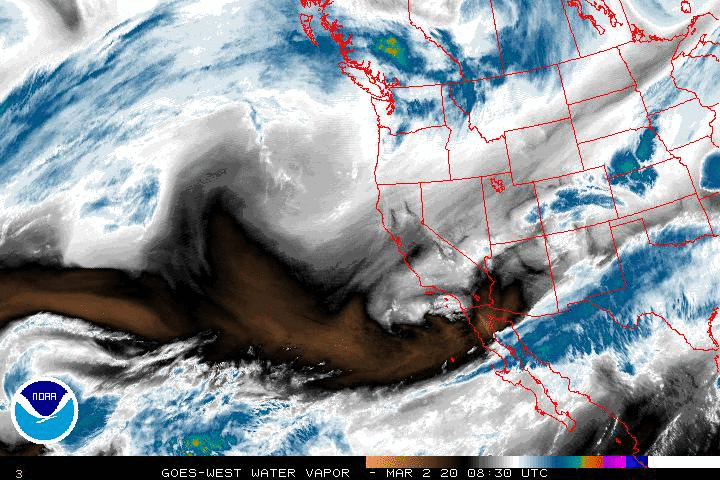 Dry air is marked by darks and orange shading, moisture in whites and blues. You'll notice Pacific moisture pushing east from off-camera, but seemingly hitting a wall and stretching to the north and south. There's evidence that the jet stream is splitting here into two components. See below for a breakdown.
The jet stream will commonly split somewhere in the Pacific into its polar and subpolar components. This isn't necessarily a bad thing for snow: what matters is whether or not the polar component passes close to the region. Our misfortune will be that the jets take the long detour around the western US.
---
Midweek shift to storms
Early this week, disturbances will move along these jets and avoid the blocking High in the western US. However, a persistent digging upper-level trough should have gradually pushed into the region by Wednesday night. Furthermore, the trough axis (marked by dashed red lines in the previous figure) is tilting "negatively", i.e. NW to SE; this is a sign that the associated low pressure system is maturing and could bring the goods during the latter half of next week.
And yes, the "blocking High" will help generate the proverbial inversion (hazy skies, cold air, *cough* *cough*)  over the Wasatch next week. Fortunately it's relatively short-lived, clears out Wednesday. SLC metro won't see the worst of the inversions this year before December, surprise surprise.
---
odds after thanksgiving weekend
Farther down the line, it seems like the dice are loaded for colder, stormier weather. Posts this week will elaborate further, but you can find that some climate models (e.g. CFS) are simulating the polar jet farther south than it is this week. In this case, we would expect storms to more easily penetrate into the region. Stay tuned.
-Marcel