After a couple days of warmer temperatures and clearer skies since the stormy weekend, we will transition back to winter for the middle of the week as a cold storm system impacts the Intermountain West. After that, we will return to milder weather for the weekend.
---
Midweek storm (Tuesday evening – Thursday morning)
A closed low pressure system centered near the CA-AZ border spread some mid-level and high-level clouds into Northern Utah this morning and afternoon. Meanwhile, the next system that will bring us precipitation overnight tonight and into Wednesday has started to enter the Great Basin from the northwest. The two systems mentioned above will combine over the next few days to the east of the Rockies and rapidly intensify to produce a strong spring storm with severe weather, blizzard conditions, and flooding. Luckily for us, our main impacts will be from the storm with the more northerly track and we will get a nice snow event out of it!
The system entering the Great Basin will migrate eastward throughout the afternoon and evening, with mountain snow starting later this afternoon ahead of the main band of clouds and precipitation. In the overnight hours, a cold front will swing through Northern Utah and drop snow levels to the valley floors. Snowfall is expected throughout much of Wednesday for lower elevations, while orographic snowfall under northwest flow could continue for the mountains into Thursday morning.  By Thursday afternoon much drier air will move into the region to shut off any remaining showers. Sunny, calm, and mild conditions will persist through at least the weekend.
Winter Weather Advisories are in effect for the Wasatch Mountains and Wasatch Front south of Interstate 80 through Thursday morning. Road conditions will not be great across much of the area tomorrow but skiing should be excellent (also chilly and breezy) with fluffy powder and some free refills throughout the day!
Expected Snowfall through Wednesday:
Cottonwoods: 8-16″
Park City Resorts and Powder Mtn: 5- 10″
Sundance & Snowbasin: 3-6″
Wasatch Front (SLC southward): 2-6″ with locally higher amounts for east benches possible
Some areas could have continued snow showers into Thursday, which would mean there is possibility for another powder day – especially if the moist NW flow keeps up!
---
As mentioned above and visible in the time-heigh section, milder conditions are expected into the weekend and beyond. GEFS Ensembles below also show a continued period of warming with dry conditions for the next ~10 days. After that, another active weather period looks like it may be on the horizon for the end of March, but it's too far out to know much with any certainty.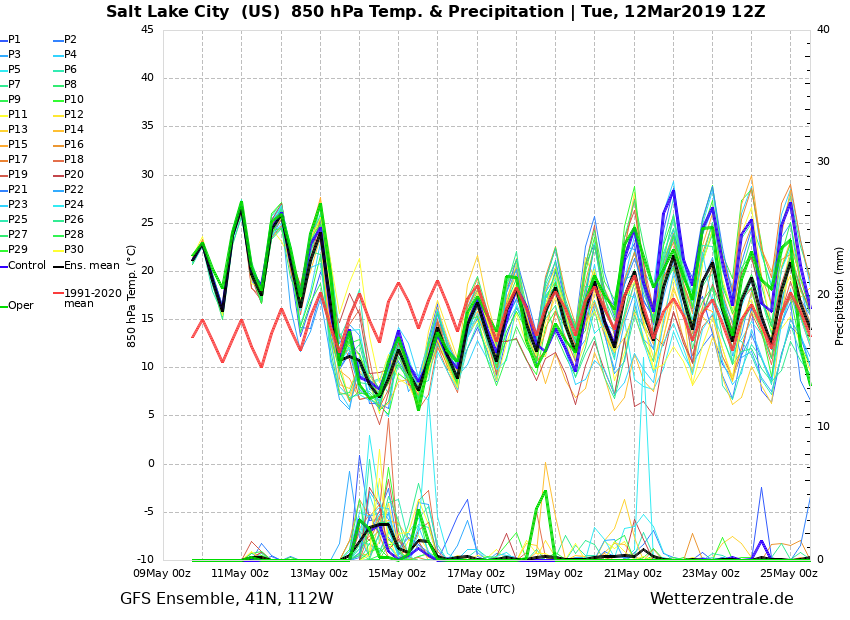 Enjoy the fresh snow tomorrow and Thursday, and pack your sunscreen if you head to the mountains this weekend!
-Lucas