Today marks the Vernal Equinox and the first day of astronomical spring (in contrast to meteorological spring -which started on March 1). It definitely has felt springlike as well, with sunny conditions and mild temperatures over the last several days. Active weather will return for the end of the week and looks to continue through the rest of the month of March.
---
As we have mentioned over the last couple of days, we have two storms on the horizon. The first will make its way into Utah tonight and Thursday. Visible satellite (below) shows cloudiness associated with this first storm progressing into Nevada and southwestern Utah this afternoon.
Central and southern Utah should see some decent snow totals from this first storm through Friday morning. Winter Weather Advisories are in place for the high terrain, where totals of 8-16″ are generally expected. Most lower elevations can expect rainy conditions as warm temperatures will limit accumulating snows to higher elevations above 6,500 – 7,000 ft.
Northern Utah won't see quite as much precipitation, but it'll be a nice refresh to the snowpack after many days of intense sun. Snow should begin for higher elevations after midnight tonight is likely continue mainly uninterrupted through the weekend. For the first round of snow in northern Utah from early Thursday morning through Friday night, it's looking like 6-12″ for the Cottonwoods and 3-7″ for other resorts. Expect all rain along the I-15 corridor and the Wasatch Front (even the benches) through Friday night.
---
The next round of rain/snow after that looks as it if will move in from a more westerly direction and cross northern Utah from Saturday afternoon through midday Sunday. It also looks to be a bit cooler in comparison, so snow levels will be lower but at this time don't appear like they will reach valley floors. We should be able to get decent amounts of snow for the high elevations with this storm as well, but we will get into the details of that in future posts as the week progresses.
Current model guidance and ensemble forecasts show temperatures rebounding for the first couple days of next week, but another storm has potential to head our way for the last days of March.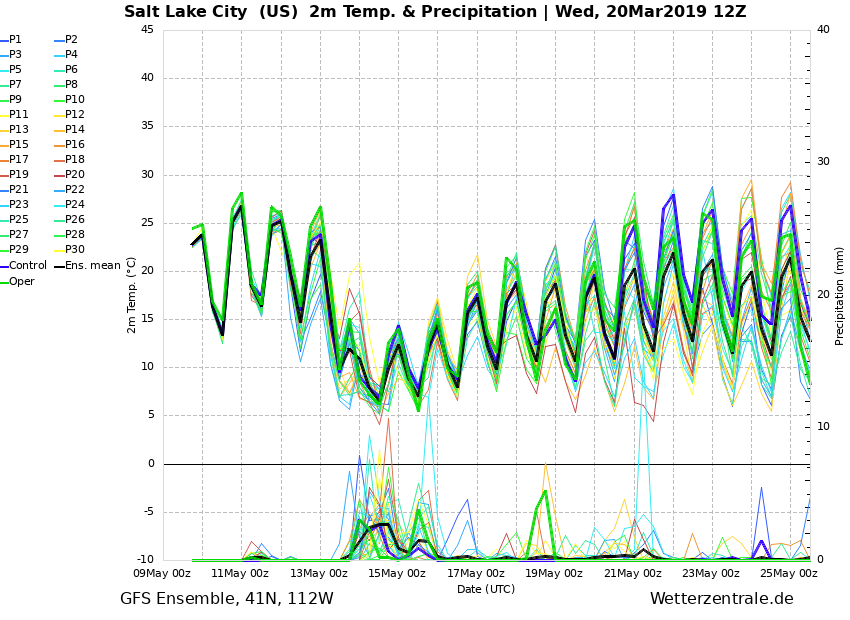 -Lucas